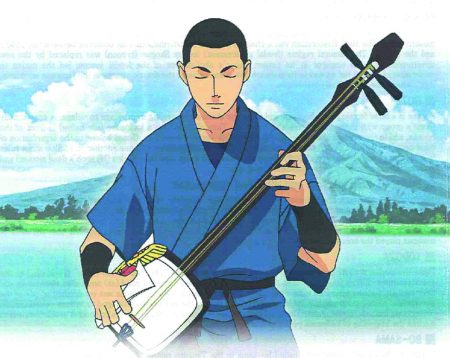 Movie screening "Nitaboh, The Founder of Tsugaru Shamisen": Fri June 21, 2024, 6:00 pm
『仁太坊~津軽三味線始祖外聞~』Nitabō – Tsugaru-shamisen shiso gaibun (2004, 100 min., DVD, Japanese original version with English subtitles)
Director: NISHIZAWA Akio 西澤昭男
[Information in German:] Die Klänge der tsugaru-shamisen, der dreisaitigen japanischen Langhalslaute aus der Region Tsugaru in der nördlichen Präfektur Aomori, erfreuen sich in Japan großer Beliebtheit. Der preisgekrönte Anime erzählt die Lebensgeschichte von Nitaboh, dem Gründer der tsugaru shamisen-Musik. AKIMOTO Nitarō (Nitaboh) wird in eine arme Familie geboren, sein Vater arbeitet als Bootsführer, seine Mutter stirbt kurz nach seiner Geburt. Schon in jungen Jahren erleidet er Schicksalsschläge, denn mit acht erblindet er und wird mit elf zum Vollwaisen. Auf sich gestellt, lernt er eine goze, eine blinde Straßensängerin und shamisen-Spielerin, kennen, die mit ihrer Tochter umherzieht und Nitarō unterrichtet. Mit eisernem Willen und der Hilfe von verschiedenen Weggefährten gelingt es ihm, einen neuen, kraftvoll-perkussiven shamisen-Stil zu entwickeln.
Picture: © WAO CORPORATION
Movie screening in the EKŌ Center in cooperation with the Japanese Cultural Institute Cologne (The Japan Foundation)
Information & registration: bdk@eko-haus.de
Number of participants limited