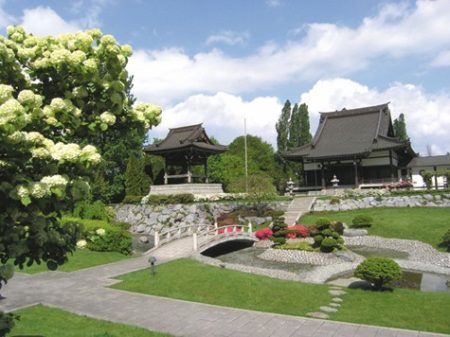 Japan Day in the EKŌ Center: Sat June 1, 2024, 1:00-5:00 pm (Recognized event as part of the Japan Day Düsseldorf/NRW)
On Japan Day 2024, the EKŌ Center invites you to visit the temple garden and exhibition as well as demonstrations; among other things, there is the opportunity to listen to a short Buddhist recitation. The traditional wooden house will remain closed on this day. – Entrance free!
The consumption of food and drinks as well as photo shoots are generally prohibited.
Temple garden:
1:00-5:00 pm – Admission regulations (waiting time possible)!
Short recitation in the Buddhist temple:
1:30 | 2:30 | 3:30 | 4:30 pm – No access, only visible from the temple garden.
Exhibition in the foyer of the EKŌ building:
1:00 pm – 5:00 pm (waiting time possible) – "Die Poesie der Tusche": Ink paintings (sumi-e) by NISHIKAWA Kan'itsu Masahiro and Malgorzata Tohkou OLEJNICZAK (information here)
Short introduction: Facets of kimono [Event language: German]
2:00 | 3:00 | 4:00 pm (approx. 30 minutes each) – Insight into various aspects of kimono culture, e.g. coordinating the utensils for a harmonious overall impression, tying the kimono belt (obi). – No kimono dressing!