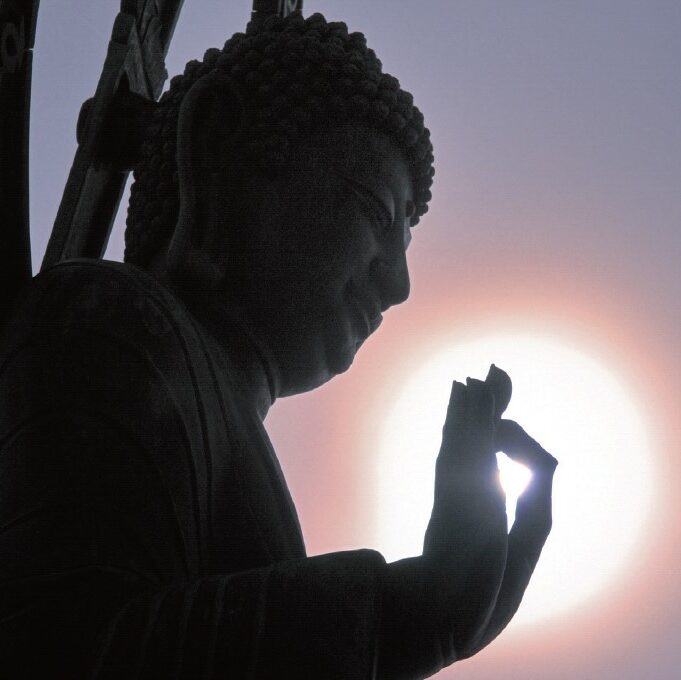 Exhibition: "In the Light of Mercy" – Photographs and wisdom
On the occasion of the 30th anniversary of the opening of the EKŌ Center in 1993, we are showing an exhibition of photographs and Asian wisdoms calligraphed with brush and ink, which are linked to the name of the EKŌ Temple ("E-KŌ" = "gentle shine", "bestowing light" or "light of grace") either visually or in terms of content.
Dark and mysterious, the silhouette of a Buddha statue rises skywards while the hand gesture (mudra) is highlighted by the radiantly bright sun. In another image, the sun disk grows out of a lotus flower. A filigree insect, which can be seen in another photo, conveys in its delicacy that all creatures are equally deserving of our appreciation. The pictures from the calendar "A Wise Teaching A Day" published annually by the Bukkyō Dendō Kyōkai (Society for the Promotion of Buddhism) invite you to take a closer look and, in combination with the corresponding wisdom and sayings, to contemplate. The thematic starting point are the said characters 惠光 "E-KŌ", which give the temple EKŌ-ji and the EKŌ house their name. They are based on a passage from one of the three basic scriptures of Pure Land Buddhism, in which the light of the Buddha Amida is praised. "E-KŌ" embodies the infinite light of the Buddha, which is full of wisdom and mercy. 惠 (e, also read megumi) stands for merciful grace or charity, also in the form of alms. 光 (kō, hikari) refers to the light or glow that emanates from Buddha Amida as the "Buddha of immeasurable light" (Sanskrit: Amitābha) and "immeasurable life" (Sanskrit: Amitāyus) and through his shining even in the dark for shine, gentle shimmer, bright spots and hope. The selected photographs impressively develop their special appeal in larger format. You can get the calendar in the EKŌ Center at the beginning of each year for a donation. We appreciate your interest!
Image: "Grief arises from our desires" ; from: The Sutra of 42 Chapters). Photographer: KINOSHITA Shigeru: Buddha statue (Shaka nyorai) on Mount Shakagatake (Nara Prefecture)