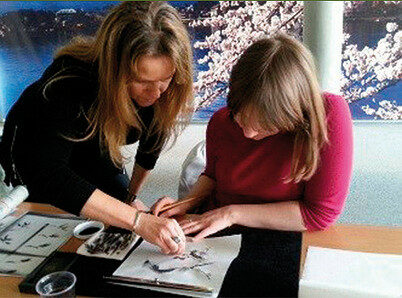 墨絵 Sumi-e – Techniques of Ink Painting: Workshop April 2024 [208-C]
Sat Apr. 27, 2024, 1:00 – 4:15 pm and Sun Apr. 28, 2024, 10:00 am – 4:00 pm
Limited number of participants | Course language: German
Please note the conditions of participation.
[Information about the workshop in German:] Sumi-e (Zeichnung mit schwarzer Tusche auf Papier) kommt ursprünglich aus China. Diese Malweise erfordert eine hochgradige Beherrschung des Materials: Jeder Pinselstrich ist unwiderruflich. Das Zauberwort der Tuschemalerei heißt nōtan, tiefe und leichte Töne (Hell-Dunkel-Kontrast). Von dem sumi-e-Künstler wird erwartet, dass er mit schwarzer Tusche den gleichen Reichtum an Tönen zu schaffen vermag wie mit bunten Farben. Ein bekanntes Meisterwort lautet: "Wenn man die schwarze Tusche geschickt behandelt, ergeben sich die fünf Farben fast von selbst."
Die Kurse richten sich an Anfänger ebenso wie an Fortgeschrittene. Der Unterricht besteht aus einem theoretischen und einem praktischen Teil. Dabei werden mit unterschiedlichen Materialien verschiedene Techniken erprobt. Die hochwertigen Materialien (japanische Tusche und verschiedene Japanpapiere) sowie zahlreiches Info- und Übungsmaterial sind während des Gebrauchs im Unterricht in den Materialkosten enthalten. Die Pinsel sind eine Leihgabe während des Kurses.
Margot Olejniczak studiert seit 2002 die Kunst des sumi-e, ist seit 2014 von der International Association of SUMI lizenzierte Lehrerin für Tuschemalerei und erhielt für ihre Arbeiten, die außer in Polen und der Schweiz, wo sie ebenfalls unterrichtet, mehrfach in Japan – darunter durch die International Association of SUMI in Räumlichkeiten des Tōkyō National Art Center und Tōkyō Metropolitan Art Museum – ausgestellt wurden, verschiedene Preise, zuletzt Anfang 2020 den Special Award des Ministry of Foreign Affairs of Japan. Seit Januar 2019 gehört sie der Jury und seit 2021 dem Rat der "The Asia Creation Exhibition" (seit 2021 "Art beyond Boundaries") im National Art Center/Tōkyō an. Zudem wurde ihr von ihrem Meister KOBAYASHI Toh'un der Künstlername Tohkou verliehen, wodurch sie offiziell als Schülerin des Meisters gilt.