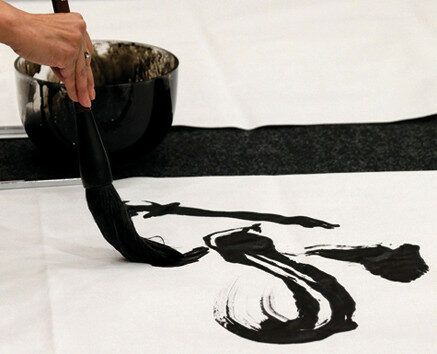 書道 Shodō – Calligraphy: Autumn Course
Course times: Wednesday, Oct. 18 – Dec. 13, 2023 (8 sessions, without Nov. 1, 2023), selectable in 3 different time slots
Limited number of participants | Course languages: German, Japanese
[207-S1] 3:00-4:30 pm FULLY BOOKED!
[207-S2] 4:30-6:00 pm FULLY BOOKED!
[207-S3] 6:00 – 7:30 pm FULLY BOOKED!
The term Japanese calligraphy means more than just precise, decorative calligraphy. Shodō, "way of writing", is a highly respected art form in Japan. At the same time, one trains the ability to concentrate, bundles inherent powers and, after appropriate inner concentration, expresses them visibly by writing down the signs. Shodō therefore usually takes place in restful, meditative silence, in which one dedicates oneself exclusively to the creative design of the respective character or lettering. In class, the use of brush and ink with original Asian material is taught. In addition to the technique of calligraphic art, the structure and meaning of the different writing systems (kanji, katakana, hiragana) and writing styles (kaisho, gyōsho, sōsho) are taught. The lessons also include the production of the personal seal (individual stamp made of soft stone for signing your own calligraphy) as well as the technique of ura-uchi 裏打ち (gluing the thin, wavy Japanese paper onto a background), so that every course participant can hang up their calligraphy at home.
WADA Rie received calligraphy lessons at the age of six from her grandfather WADA Meihō, a multi-award winning master calligrapher in Japan. She studied art, obtained the teaching qualification as a calligraphy teacher and completed another art degree in Germany. In addition to her teaching activities and various solo and group exhibitions as an artist, she is also active as a calligraphy performance artist. She had appearances at the Ruhrtriennale 2011 and the Poetica 2018 with the writer TAWADA Yōko as well as in various museums (e.g. Folkwang) and at trade fairs (e.g. Geneva Motor Show).
Course dates: Oct. 18, Oct. 25, Nov. 8, Nov. 15, Nov. 22, Nov. 29, Dec. 6 and Dec. 13, 2023
Please note the conditions of participation.