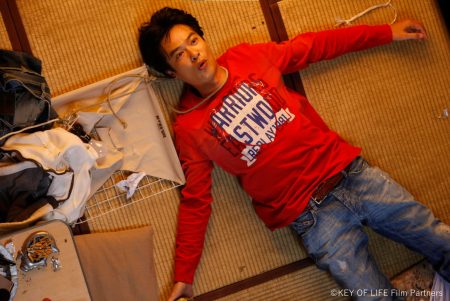 Movie screening "Der Schlüssel zum Erfolg" [Key of Life]: Fri March 8, 2024, 6:00 pm
『鍵泥棒のメソッド』Kagi dorobō no mesoddo (2012, 128 min., Blu-ray, Japanese original version with German subtitles)
Director: UCHIDA Kenji 内田けんじ
[Information in German:] In der preisgekrönten Thriller-Komödie tauschen die Protagonisten ihre Identität und geraten in einen Strudel von skurrilen Erlebnissen und Überraschungen. Der verschuldete 35-jährige Sakurai ist als Schauspieler gescheitert und will sich umbringen. Vorher geht er aber noch in ein Badehaus, wo der wohlhabende Profikiller Kondō durch einen Unfall sein Gedächtnis verliert. Aus einer Laune heraus schnappt sich Sakurai den Spindschlüssel und entscheidet, fortan als Kondō zu leben, ohne von dessen illegalen Geschäften zu wissen. Schon bald muss er sich mit den Yakuza herumschlagen, während Kondō, der mittlerweile davon überzeugt ist, Sakurai zu sein, im Krankenhaus auf Kanae trifft, eine nette und ehrgeizige junge Frau, die unbedingt heiraten will. Als Kondō schließlich seine Erinnerung zurückerlangt, muss er einen Haufen Probleme lösen.
Photo: © KEY OF LIFE Film Partners
Movie screening in the EKŌ Center in cooperation with the Japanese Cultural Institute Cologne (The Japan Foundation)
Information & registration: bdk@eko-haus.de
Number of participants limited