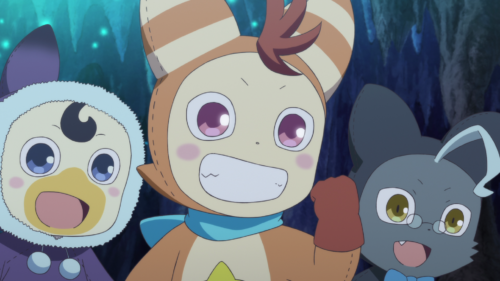 Movie screening "Pop in Q"
『ポッピンQ』Poppin kyu (2016, 95 min., Blu-ray, Japanese original version with English subtitles)
Director: MIYAHARA Naoki 宮原直樹
The fantasy anime was created to celebrate the 60th anniversary of the Tōei Animation film studio and tells the story of young girls who brave a global crisis. Middle school student Isumi discovers a "fragment of time" in the sea. As she picks it up, a never-before-seen world opens up to a mysterious life-form calling itself Pokon. From there she is given the signal that the time of the world is threatened with decline, and so she and four other girls are now doing everything they can to avert the crisis.
Photo: © TOEI ANIMATION 「POP IN Q」Partners 2016
Movie screening in the EKŌ Center in cooperation with the Japanese Cultural Institute Cologne (The Japan Foundation)
Information & registration: bdk@eko-haus.de
Number of participants limited