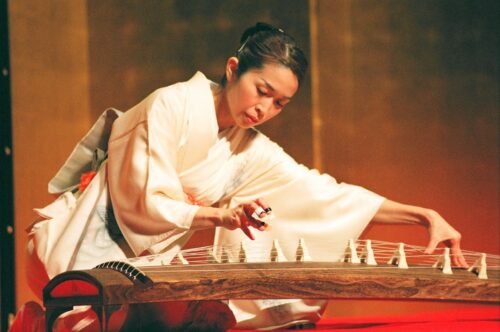 箏曲 Koto-Musik: Herbstkurs (3 Termine)
Thu Nov. 30, 2023 (Previous lesson: Nov. 7, next lesson: Dec. 7, 2023)
Individual lessons: €120.00 | Group lessons: €75.00 (per course) – lesson duration: 60 min. by arrangement between 10:00 am and 8:00 pm
The koto is an arched board zither with mostly 13 strings guided over individual bridges. It came to Japan from China during the Nara period (710-794) as an instrument of court music (gagaku). Especially since the Edo period (1603-1868) it has found its way into the houses of the bourgeoisie. Among the various schools, the Yatsuhashi-ryū founded by YATSUHASHI Kengyō (1614-1684) is one of the most important. Among other things, he is credited with composing the most classic of all Koto pieces, "Rokudan no Shirabe". Among the schools that still teach today, the Ikuta-ryū and the Yamada-ryū are among the best known, in which the koto is often used in conjunction with other instruments such as shamisen and shakuhachi. Modern and contemporary composers have consciously created new music specifically for the koto. – The course offers the opportunity to discover the koto as a fascinating and diverse instrument in its many different sound colours. Beginners are also welcome.
About the lecturer:
KIKUCHI Naoko started playing koto as a child under the guidance of her mother and grandmother; later she became a student of the pioneering koto masters SAWAI Kazue and Tadao at the Sawai Koto Institute. International tours and performances as a member of the Sawai Kazue Koto Ensemble followed while she was still studying at Sophia University in Tōkyō. A scholarship from the Office for Cultural Affairs (Bunkachō) in 2007 enabled her to continue her education in contemporary ensemble playing at the IEMA (International Ensemble Modern Academy) in Frankfurt. Since then, the center of her life has been in Germany, but concerts and festival appearances often take her abroad. She was also a guest of the Berlin Philharmonic and took part in world premieres of commissioned works by Adriana Hölszky for the Ballett am Rhein. She also cooperates in many ways with organizers, composers and artists. She has an extensive repertoire and is also skilled in improvisation. She plays in several ensembles, including the AsiaArt Ensemble Berlin.