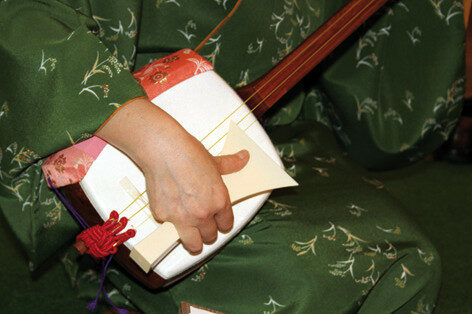 地歌三味線ワークショップ Jiuta-Shamisen: Workshop February 2024 [209-1]
Maximum number of participants per group: 4 | Languages of instruction: German + Japanese. – Instruments are available to borrow during the lesson. You can bring your own instruments.
Please note the conditions of participation.
Group A: 1:00 – 2:30 pm
Group B: 2:45 – 4:15 pm
[Information about the workshop in German:] In der Eiroku-Ära (1558-1570) gelangte die Kastenspießlaute sangen von China über die Ryūkyū-Inseln nach Japan und wurde dort in Bauweise und Ästhetik der japanischen Kultur angepasst. Das Ergebnis ist die shamisen: ein dreisaitiges Begleitinstrument, das bis heute sowohl in der Kunstmusik beim Vortrag von Liedern und Erzählungen als auch in der populären Musik in allen Teilen Japans eingesetzt wird. Gerade seit der Edo-Zeit (1603-1868) erfreut es sich als Vermittlerin moderner Kultur großer Beliebtheit, vor allem im städtischen Bürgertum, zu dessen Lieblingsinstrument es damals avancierte. Historisch war die shamisen in Theatern und Freudenhäusern ebenso anzutreffen wie in den Residenzen der daimyō-Fürsten und in der bürgerlichen Oberschicht. Dabei bildeten sich je nach Ort und Interpret unterschiedliche Spielarten und Genres heraus, die teilweise bis heute tradiert wurden. Jedes Genre zeichnet sich in der Regel durch eigene Spielweisen und -techniken, Klangfarben und Gesangsstile aus. Eine spezielle Sattelvorrichtung (sawari) am Kopf-Hals-Übergang sorgt beim Anschlag mit dem trapezförmigen Plektrum (bachi) für den charakteristischen, leicht schnarrenden Klang.
Das im Workshop gelehrte jiuta ist eines der ältesten Genres, gespielt auf einer speziellen shamisen mit mitteldickem Hals. Optional können bei den poetischen Gesängen koto und manchmal shakuhachi begleitend hinzutreten. Die gesungenen Dichtungen enthalten oft Naturbilder, die metaphorisch innere Gefühlslandschaften zum Ausdruck bringen.
Die Profi-Musikerin Tomoko Schmidt (koto, jiuta-shamisen, Gesang) gehört zu den Gründerinnen des japanischen Ensembles WAGAKU MIYABI. Der Musikwissenschaftler Tobias Winnen, Wissenschaftlicher Mitarbeiter an der Folkwang Universität der Künste, ist Mitglied im Uehara-Zweig der Yamada-Schule für traditionelle japanische Shamisen und Koto-Musik mit Sitz in Tōkyō.