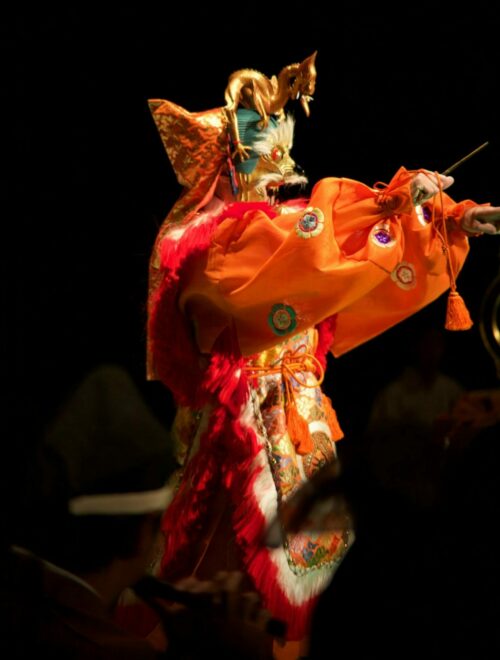 Concert: Gagaku and bugaku – Music and Dance from ancient Japan
On the occasion of the 30th anniversary of the EKŌ Center, a special experience awaits those interested in Japanese culture: traditional Japanese ceremonial music (gagaku) with dance (bugaku).
Originally from China, this art form came to Japan via the Korean Peninsula and was first demonstrated in Japan in the Shitennō-ji Temple in the early 7th century. Shitennō-ji is one of the oldest Buddhist temples in Japan. It also served as a guest house for the government and was therefore closely linked to the adoption of cultural customs from foreign countries. In the course of the 9th century, the music pieces as well as the instruments and thus the overall sound were changed according to the wishes of the Japanese court nobility and probably reached their current form in the 10th century. The music being was performed both at court and in the temple rites and has a more meditative character. The stylized movements of the dance also have little in common with what is often understood by dance in the western world today.
We would be delighted if you took the rare opportunity to experience gagaku and bugaku performed by a top-class professional ensemble from Japan here in Düsseldorf.
Tickets:
20.00 € | Students: 10.00 €
Tickets available from June 2023 during office hours at the EKŌ House of Japanese Culture e.V. and at Westticket (plus service/advance booking fee).