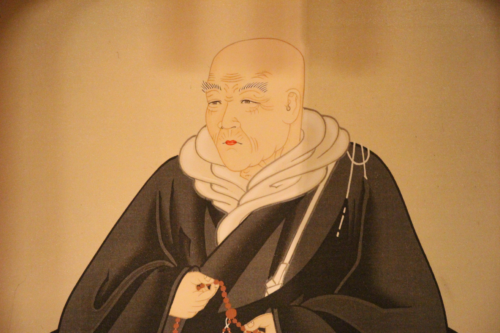 Pāramitā Festival Lecture: Pāramitā Festival Lecture: Introduction to Shinran's Thought (4) – Amida, Śākyamuni and the ordinary life
Language of the lecture: German
In 1224, living in a remote province, an elderly court nobleman who had been a monk and was no longer allowed to be a monk, plucked up all his courage and put down on paper who he was and what he thought about the Buddha and the world. Somewhere on the first few pages he wrote he noted the year. It is now considered the founding year of the Jōdo Shinshū. How did Shinran see his situation as a failed monk? Why didn't he have any doubts? And what effect did his non-doubting of the Buddhist teachings have on his Buddha-image, i.e. on his thinking about Amida, Śākyamuni and his own ordinary life? – The question of what is the difference between the Buddha Amida and the Buddha Śākyamuni is often asked by German visitors to the EKŌ Center. It shall be answered here with special reference to Shinran Shōnin.
The lecture begins after the Pāramitā ceremony and takes place in a hybrid way: online and in presence in the EKŌ temple.