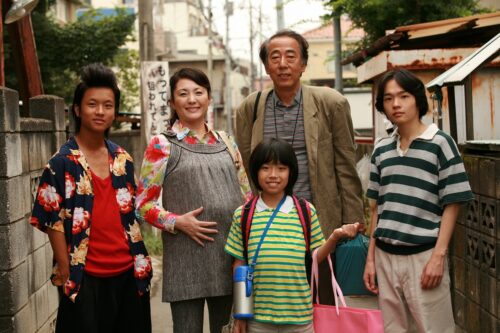 Movie screening "Ōsaka Hamlet"
『大阪ハムレット』Ōsaka Hamuretto (2008, 107 min., DVD, Japanese original version with German subtitles)
Director: MITSUISHI Fujirō 光石富士朗
Based on MORISHITA Hiromi's award-winning manga series of the same name, the film paints a heartwarming portrait of an extraordinary family in a working class neighborhood of Osaka. After the sudden death of her husband, Fusako pulls the strings and takes care of the income for herself and her three sons. She works in a hospital during the day and in a pub in the evening. When one day a distant uncle unexpectedly shows up at the door and moves in, things take a strange turn and everyone involved is faced with new challenges. High school student Masashi, the eldest son, has fallen in love with a prospective teacher and tries to impress her with fatherly airs. Yukio, the middle kid, is suddenly fascinated by Shakespeare's "Hamlet", and little Hiroki would much rather be a girl and decides to play the role of "Cinderella" in a school play. In the midst of all these bizarre developments, all family members find valuable answers to their questions about life.
Photo: © "Ōsaka Hamlet" Production Committee
Movie screening in the EKŌ Center in cooperation with the Japanese Cultural Institute Cologne (The Japan Foundation)
Information & registration: bdk@eko-haus.de
Number of participants limited